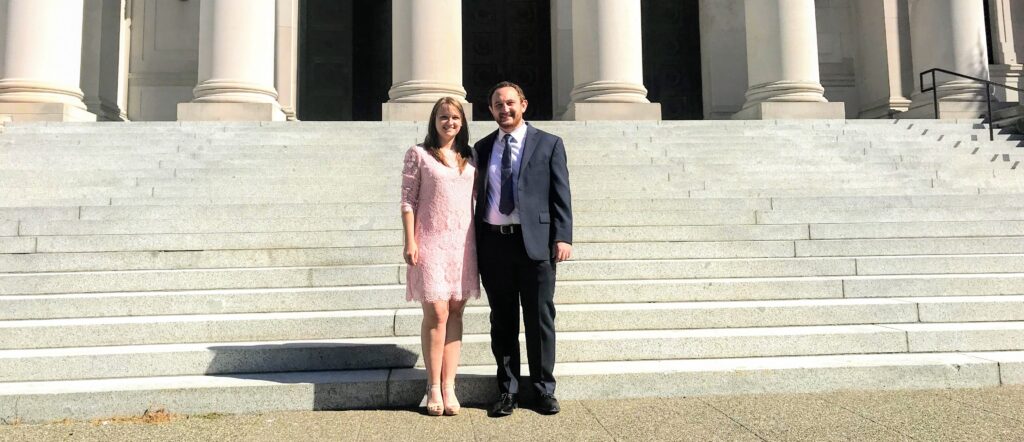 Here's my story.
A few decades ago, I was born into a family that traveled the country painting bridges. I switched schools over a dozen times and lived in 15 states before graduating high school in Vancouver, Washington. I loved to wrestle back then. I took second in the state championships. In a freak accident my senior year at state, I broke my neck in the last match I ever wrestled. After high school I worked as a sandblaster on bridges during the summer and during breaks to pay for college. 
College and Work. While in college, I took German, got a scholarship, and moved to Germany where I met my wife. I lived in Europe for a few years and we eventually moved back to Vancouver. Upon returning, I worked as a project manager in the construction industry for several years on complex multi-million dollar public works infrastructure projects with various state departments of transportation and the Army Corps of Engineers. I managed dozens of employees and fought government agencies tooth and nail to keep our projects on track. 
Law School.Frustrated with the status quo and wanting to help contractors with the challenges facing modern project works projects, I went to law school at Gonzaga. I finished as the top student in many of my commercial law classes, and third in my class overall. After graduating, I earned a prestigious clerkship at the Washington State Supreme Court where I drafted several majority opinions under Justice Susan Owens. Wanting to serve the construction industry that I spent much of my life in, I immediately opened my own practice after clerking. 
Me today. I've been lucky that my life has been filled with lots of interesting people, places, and stories: below are a few pictures from it (click on photos to read the stories). Here is my resume if you were looking for that. Today I like spending time with my family, golfing, hearing funny jokes, watching the Seahawks (and Vikings too), bow hunting, making wood fired pizza in my pizza oven in my backyard that I built, speaking a few languages, watching Will Ferrell movies, and drinking a nice cold pilsner at the end of the day.